The Heritage of Care at Corrimal Dental
Serving Corrimal for More Than 25 Years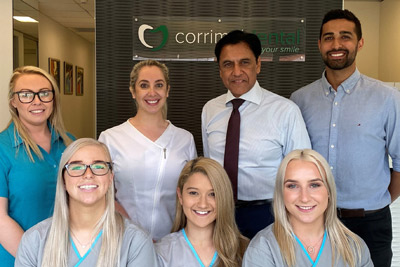 Corrimal Dental have been providing excellent dentistry and high quality patient care to the local community since 1990.
Formally owned by Dr Stephen Hannaford, we were located at 420 Princes Highway and Railway Street, Corrimal, but in May 2012 Dr Raj Pather took over the practice and relocated into Corrimal CBD in May 2014, to new state of the art facilities.
At Corrimal Dental we provide all our patients access to excellent dental care and good oral health through quality dental treatments at an affordable price. Corrimal Dental's new Clinic is located on the ground floor and is wheel chair accessible throughout. We also offer convenient Saturday appointments.
Proud to be the Trusted Dentist for Corrimal Locals
Our team of professionals offer personalised service and dedicated care, trained and certified in various aspects of dentistry. As technology evolves our dental surgery stays up-to-date on the latest developments in techniques and equipment to ensure the most efficient and nurturing treatment possible.
At Corrimal Dental we promise the care you need without costing the earth.
At our dental practice in Corrimal we can help you with everything from simple check-ups to more comprehensive treatment. We also offer emergency dental care and we can efficiently treat any urgent problems so you don't have to put up with pain any longer with simple and cost-effective care from Corrimal Dental Surgery.
MEET OUR TEAM »
Non-invasive and long-lasting, our results are bound to make you smile. Pain relief is only a phone call away, talk to us today.

About Corrimal Dental | (02) 4285 2279