Payment Plans at Corrimal Dental
Get the Smile You Want Now & Pay for It Later!

With Afterpay, you can enjoy a beautiful smile now and pay for it in four identical fortnightly payments. One of the most convenient benefits of Afterpay is it allows you to spread out the cost of your treatment. Perhaps best of all, there's no added interest and no additional fees*.
Schedule your appointment as you usually do.
Obtain the Afterpay App on your phone and sign up.
Prior to your visit, check your spend limit by selecting the barcode icon on your Afterpay App.
After your visit, generate a barcode that will be scanned at the front desk.
Afterpay will debit the initial fortnightly payment from your debit card.
Upon approval, your payment schedule will be displayed in the App.
The funds for the first fortnightly payment must be available when you come in for your appointment.
The available spend limit that you have will vary. This depends on whether you are a new or an existing Afterpay customer and depending on the orders that you have pending.
Check your spend limit before your appointment by selecting the barcode icon on your Afterpay App.
*If you don't make a payment on time, you will be charged a late payment fee of $10. An additional $7 fee will be added seven days later if the payment is still unpaid. Afterpay will not charge any further costs or interest.
Financial Information
All health funds are accepted, with HICAPS facilities on-site to process your claim immediately, and eftpos processes a range of payment options.
We also accept:
Child Dental Benefits Schedule
HCF (More for Teeth Program)
Preferred providers for CBHS and West fund health funds
Illawarra Area Health dental treatment vouchers
Veterans' Affairs Gold Card holders
Pensioners receive a 10% discount on all general dental services at Corrimal Dental.
Denticare Payment Plans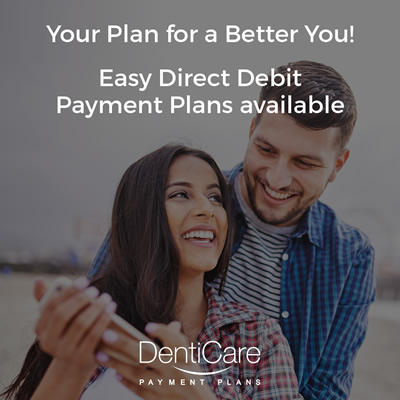 At Corrimal Dental we are committed to providing the best possible dental and oral treatment to ensure a better quality of life for you and your family and each patient is provided with a tailored treatment plan to suit your budget.
To ensure that you can access the best treatment when you need it most we are excited to offer you a simple interest free direct debit service managed by DentiCare.
A direct debit payment plan is a convenient and affordable way to pay for the cost of dental treatment over time. It isn't a credit or finance product so you won't pay any interest or have to go through complicated finance checks.
A Payment Plan can be used for a wide range of general dentistry, cosmetic dentistry and orthodontic treatments. You can use a payment plan for teeth whitening, dental implants, crowns and veneers and most other dental procedure.
Now there's no reason for you to delay your treatment. Ask us how a no interest DentiCare payment plan can get you into treatment straight away.
CONTACT US »


Corrimal Dental Payment Plan | (02) 4285 2279