Dental Implants at Corrimal Dental
Restore Your Stunning Smile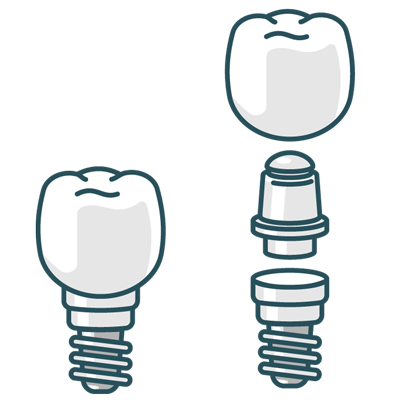 Is a missing tooth making you feel less-than-confident about your smile? If you're dreaming of a more beautiful, restored smile, then our long-lasting and durable dental implants may be the perfect solution for you. Since their invention, dental implants have provided permanent solutions to millions of patients, whether they are missing one tooth or multiple teeth.
Our Computer Guided Dental Implants
Dental implants act as an artificial tooth root made from very strong titanium material. This 'root' closely resembles a screw, which is securely attached to the jaw bone to act as the base for a fixed restoration (such as a crown, bridge, or denture). This restoration is then made to closely look and act just like your existing teeth, helping you to maintain the function and aesthetics of a natural tooth.
At Corrimal Dental, we use computer guided implants, which are one of the latest advancements in dental implantology. By using the aid of a computer to place the implant, we can provide patients with a less invasive procedure that has an extremely high rate of success due to the unparalleled accuracy it offers. Additionally, dental implants do not compromise the surrounding teeth in any way. In fact, implants are vital for maintaining your correct bite and preventing the adjacent teeth from moving around.
The Dental Implant Procedure
Thankfully, the dental implant procedure occurs in as little as three stages. The first stage involves surgically placing your implant, before allowing osseointegration (the fusion of bone and gum tissue) to occur over a period of 3 – 4 months. The second stage involves our dentist gently uncovering the internal screw, before applying a healing cap over the gum tissue. The third and final stage sees our dentist fitting your permanent restoration, whether it be a crown, bridge, or denture.
Schedule a Consultation Today!
Don't let a missing tooth disrupt your confidence or the function of your mouth any longer. Please contact the professional Corrimal Dental team today to discuss how our high-quality dental implants can help you!
CONTACT US »

Dental Implants Corrimal, Woonona, Balgownie NSW | (02) 4285 2279