Twice-Yearly Check Ups at Corrimal Dental
Optimal Oral Health Starts Here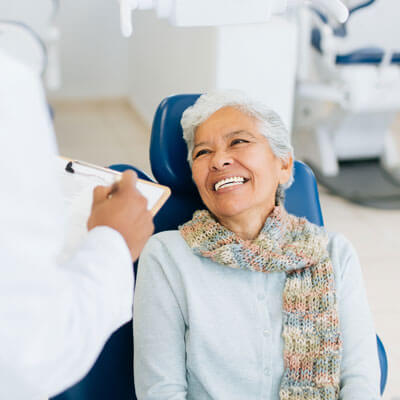 While activities such as daily brushing and flossing, as well as watching your sugar intake can positively impact your oral health and wellbeing, so too can attending twice-yearly check up and hygiene appointments at Corrimal Dental. Our professional dental team believe that prevention is always better than cure. This is why we're proud to offer comprehensive check ups which help you achieve a healthy, beautiful, and confident smile that you want to show off every day.
What to Expect at Your Comprehensive Check Up
During your regular check up and hygiene appointments, our friendly team will ensure you feel comfortable and at ease. We're dedicated to providing our patients with the highest level of oral health care and aim to build long-lasting, one-on-one relationships that put each individual's needs first.
Our comprehensive check up and hygiene appointments include:
A thorough examination and assessment of your teeth and soft tissue such as gums, tongue, and cheeks.
Oral hygiene advice
Radiographs (if necessary)
A personalised oral health treatment plan
A scale, polish, and fluoride treatment
Home Care Tips for Healthy Teeth
In addition to your bi-annual check up and hygiene appointments, it's vital to maintain correct oral hygiene procedures at home to further prevent a build-up of plaque, tartar or gum disease-causing bacteria. Your daily routine should consist of:
Twice-daily brushing: this dramatically reduces bacteria in your mouth to keep your teeth, gums, and other components of the mouth in top condition. We recommend using a soft-bristled toothbrush and ensuring you brush along the gum lines, as well as your teeth. Aim to brush for two minutes each session.
Floss daily: To eradicate food, plaque, or tartar build-up in those hard-to-reach spaces between teeth, use dental floss, or other alternatives such as a floss pick or water flosser.
Target your tongue too: Many patients tend to forget their tongue, but it should also be brushed to remove bad breath-causing bacteria and food particles.
Schedule an Appointment Today!
Is it time for your bi-annual check up and hygiene appointment? Contact Corrimal Dental to schedule yours today!
We offer convenient same-day and Saturday appointments so you can easily fit your checkup into your busy schedule. Contact Corrimal Dental today!
CONTACT US »

Check Up and Hygiene Corrimal, Woonona, Balgownie NSW | (02) 4285 2279