Clear Aligners at Corrimal Dental
Perfect Arch Aligners for Your Dream Smile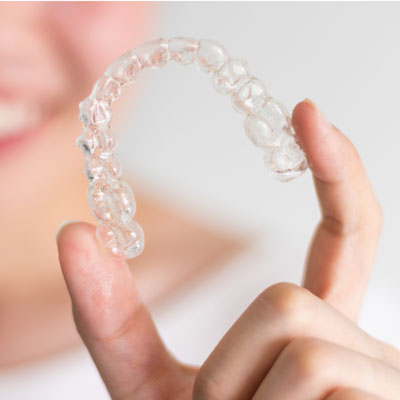 If you've ever wanted a straighter smile but been hesitant to go down the route of traditional metal braces, then you're in luck. We offer a variety of high-quality and effective orthodontic alternatives, with one of these being our perfect arch aligners (also known as clear aligners).
These translucent and removable aligners are an affordable option for adults who want straighter teeth without fixed brackets and wires.
How Do Perfect Arch Aligners Work?
Your clear aligners are custom-made to suit your individual teeth straightening treatment. Each set of aligners fit snugly over your teeth, with pressure being applied at specific points to gradually, yet effectively, guide your teeth into their more desired positions. The clear aligners need to be worn at least 22 hours per day, however this gives you enough time to remove them during meal times, as well as for brushing and flossing.
Every two weeks, you will visit our practice to receive your new set of custom-made aligners. Over just a short period of time, you will begin to see your desired results appear right before your eyes.
Are You a Candidate for Perfect Arch Aligners?
If you're experiencing a smile that is crooked and makes you feel unconfident in your day-to-day life, then Perfect Arch Aligners may be the perfect solution for you. These clear aligners are particularly useful for correcting the following issues:
Mild to moderate tooth misalignment
Crowded teeth
Gaps in your smile
Overbites and underbites
Schedule a Consultation Today!
If you're interested in finding out more about our Perfect Arch Aligners, as well as how much the treatment will cost, please contact us today! Although individual costs vary depending on the extent of tooth movement needed, our experienced team can provide you with a detailed estimate at the time of your consultation.
CONTACT US »

Clear Aligners Corrimal, Woonona, Balgownie NSW | (02) 4285 2279