Our Experienced Dentists
Caring for Your Smile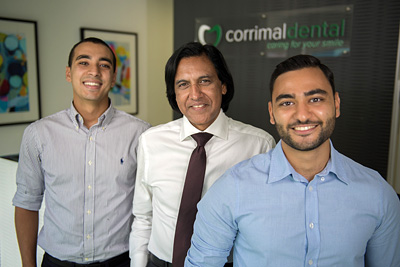 Our caring and welcoming team are here to support the dental needs of your entire family. From children to adults, patients of all ages can improve their oral health and enhance their smiles.
Whether you need a routine check up or want to transform your smile, our friendly team offer a range of general and major dental services including emergency dental care for urgent situations.
All our staff members are experienced and highly qualified, here to assist you in achieving your dental goals.
EXPLORE OUR SERVICES »

Dr Raj Pather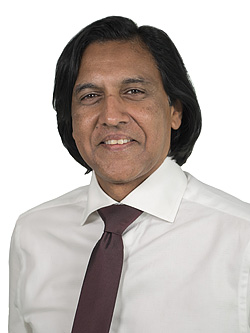 The son of well known Illawara GP, Corrimal Dental dentist Dr Pather and his family have been providing excellent care to the Dapto, Corrimal, Woonona, Balgownie region for decades.
Dr Pather has dedicated much of his 32 year career to giving back to both the dental industry and those less fortunate. He's volunteered with with Equal Health Global Charity in Calcutta and other parts of India.
He's a current member of the International Team of Implantology, the Australian Society of Dental Implants and the Australian Dental Association, serving on the board of the latter in the 1990's. In 2006, he was conferred as a Fellow of The International Academy of Dentists.
Outside of the office, he stays busy with his wife and two children, travelling and enjoying motor racing.
Dr Amit Balgi

Born and brought up in Wollongong, Amit completed school and an undergraduate degree at the University of Wollongong before moving to Orange to pursue Dentistry, where he obtained his Bachelor of Dental Science from Charles Sturt University. After graduating in 2016, he continued to work for the University in Private Practice, but also in an academic role, lecturing and tutoring Year 3 and 4 students.
He has developed a strong interest in Endodontics and Aesthetic Dentistry. He enjoys treating anxious patients and those that feel uncomfortable about visiting the dentist.
Amit continues to develop and improve his professional skills by attending courses when he can.
Dr Kanishko Das

Born and brought up in Delhi, India, Kanishko moved to Sydney, Australia in 2009 to pursue his tertiary education at the University of Sydney. There he completed his undergraduate degree in Medical Science, majoring in Neuroscience and then went on to complete the Doctor of Dental Medicine degree in 2016, to qualify as a dentist. Upon graduating, he started his career in Queensland to work in corporate private practice in Sunshine Coast, while serving the community in rural Queensland out in Mt Isa at the same time. He then moved to Dubbo, in regional NSW in 2017. He operated as the loved, friendly local dentist providing care to the community up until 2020, when he finally moved to Wollongong, to join our team.
As a practitioner, Dr Das has a very systematic and structured approach, centred around the patient. From making patients immediately comfortable in the chair, he puts them first while devising treatment plans and works with them every step of the way. He also spends time with anxious patients and kids to help them overcome their fears. He is interested in aesthetic and functional restorative dentistry as well as endodontics. He also completed the Master Implant Program with the Brener Implant Institute in 2019.
In his free time, he enjoys the company of his family and friends, be it at home or outdoors. He also enjoys cricket, tennis, motorsport, cooking and photography.
Oral Health Therapist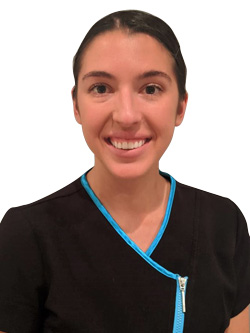 Kristin, our dedicated Oral Health Therapist is an integral member of the Corrimal Dental team. Kristin graduated from the University of Sydney in 2012 with a Bachelor of Oral Health and has spent the last 7 years practising both dental hygiene and therapy. Kristin works collaboratively with Dr Pather and the Corrimal Dental team to provide the best quality dental care and treatment to patients of all ages.
Kristin is the person you see every 6 months for your maintenance and cleaning appointments, always with a thorough but gentle approach. She is also highly skilled in more specialised care including management of gum disease as well as taking care of the dental needs of the children that visit our practice. Kristin is always ready to share her knowledge with you to ensure you are well informed about your dental health and how best to manage it. She places a high focus on prevention of oral disease and is passionate about creating individualised maintenance, homecare and introducing new oral care products to help every patient achieve optimal oral health.
In her free time Kristin enjoys playing netball, looking after her dog and going camping on the South Coast.
Have your oral health assessed immediately with a same-day appointment. Contact us today!
Oral Health Therapist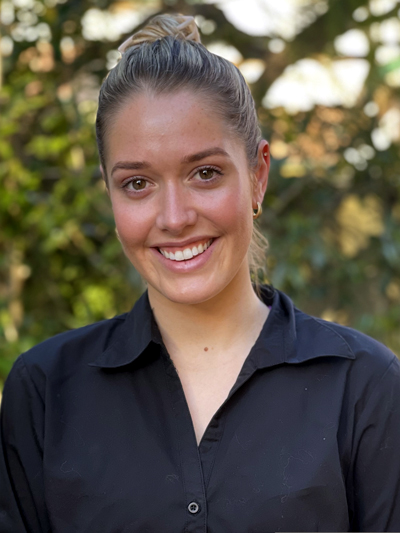 Rochelle graduated from TAFESA in 2020 with an Advanced Diploma of Oral Health and started practicing Dental Hygiene with us in June 2021.
Rochelle works collaboratively with Dr Pather and the Woonona Dental team to provide the best quality dental care and treatment to patients of all ages.
In her spare time, Rochelle enjoys the company of her family and friends, taking her dog for walks on the south coast and playing netball.
Have your oral health assessed immediately with a same-day appointment. Contact us today!

Corrimal Dental Team | (02) 4285 2279