Smilefast Orthodontics at Corrimal Dental
Your Simple Solution to Straighter Teeth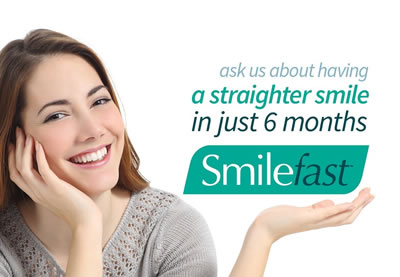 At Corrimal Dental, we're not just experts at helping you achieve a healthier smile. We're also highly-skilled at assisting you to achieve the straighter, more beautiful and confident smile of your dreams.
We do this through providing a wide range of cosmetic and orthodontic options, with braces being at the top of this list. Traditional braces aren't for everyone though, so you'll also find other popular alternatives such as clear aligners and the latest breakthrough in dental treatment – Smilefast orthodontics.
The Benefits of a Straighter Smile
Did you know that aside from its aesthetic benefits, a straighter smile can also assist you to achieve and maintain optimal oral health? This is because straighter teeth are easier to brush and floss. Additionally, orthodontic treatment such as Smilefast can help patients to bite, speak, and chew more effectively.
At Corrimal Dental, our orthodontic options are made to suit every individual patient's mouth, aesthetic choices, and budget.
Smilefast embraces the subtlety of clear aligners, whilst adopting the powerful bracket system that traditional braces use. Using discreet, clear aligners, Smilefast is able to effectively straighten a patient's teeth in as little as 6 months – not the traditional 2-3-year timeframe that metal braces require. Smilefast also requires fewer dental visits than other braces alternatives, resulting in treatment that isn't just quicker, but more affordable too.
Smilefast can also treat a wide range of orthodontic cases that other cosmetic treatments cannot. This includes, but is not limited to:
Crowding
Spacing
Protrusion
Underbites
Smilefast uses revolutionary dental technology to provide a detailed 3D model of your teeth, unlike other methods which rely heavily on plaster impressions. This model identifies the precise position to place each bracket on your teeth, allowing for the most rapid tooth movement. Thanks to this advanced 3D technology, the Corrimal Dental team can now rapidly, yet safely, straighten your teeth in a much shorter time period than traditional orthodontics.
Schedule a Consultation Today!
Are you interested in achieving a straighter and more confident smile with Smilefast orthodontics? To discuss this treatment option further, schedule a consultation with our experienced team today!
CONTACT US »

Smilefast Orthodontics Corrimal, Woonona, Balgownie NSW | (02) 4285 2279