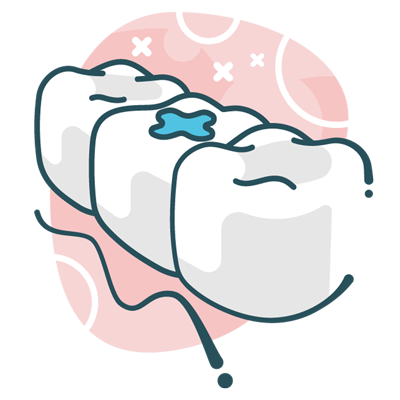 Dental Fillings at Corrimal Dental
At Corrimal Dental, we provide the most advanced dental treatments and procedures to help our patients achieve optimal oral health, no matter what age they are. Just one of these services includes our high-quality white dental restorations, which are a safe, durable, and aesthetically-pleasing solution to tooth decay.
The Benefits of Our White Fillings
We pride ourselves on offering Amalgam-free solutions to dental cavities with our highly-effective white restorations. Using long-lasting composite materials, our fillings require less-invasive methods of placement due to the composite adhering directly to the tooth. Additionally, the filling is made to match the exact shade of the tooth being treated, resulting in a seamless restoration that no one will even know is there!
Tooth decay isn't always obvious, which can make it difficult to determine whether you require a dental filling or not. Thankfully, there are some signs you can look out for, which may indicate if you are experiencing tooth decay. These include:
Sensitivity when eating or drinking, particularly due to hot or cold food and beverages
Pain in the tooth when chewing
Noticeable discolouration of a tooth
Food collecting inside of the tooth after eating
Rough spots on the tooth which can be felt with your tongue
If you're experiencing any of these symptoms, you may require a dental filling. Talk to our experienced dental team today to seek treatment with our beautiful, white restorations.
If you're worried about tooth decay, you will be pleased to hear that there are many steps you can put in place to avoid dental cavities, such as:
Brushing your teeth twice a day with fluoride toothpaste
Flossing between your teeth daily
Attending twice-yearly dental check ups and cleans
Eating a well-balanced diet that limits sugar intake
Drinking water regularly, particularly after eating or consuming beverages with high sugar or acidity.
Applying protective sealants, such as fluoride, to your teeth
Schedule a Visit Today!
Do you have any of the signs of tooth decay, or simply wish to discuss white dental fillings with our friendly team? Please contact (02) 4285 2279 to schedule a visit to Corrimal Dental today!
CONTACT US »

Dental Fillings Corrimal, Woonona, Balgownie NSW | (02) 4285 2279