High-quality Veneers at Corrimal Dental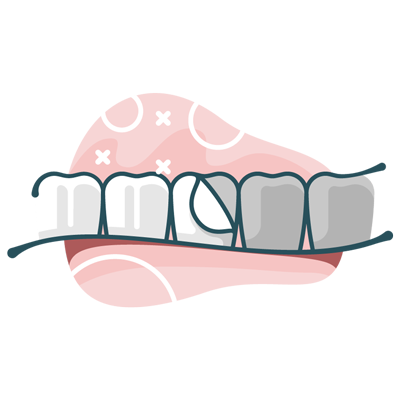 If you're dreaming of a more beautiful and confident smile, then a smile makeover with our high-quality veneers may be the perfect option for you. Veneers are thin, tooth-shaped sheets of porcelain which are bonded over the visible surfaces of your front teeth, resulting in a straighter, whiter, and more stunning smile.
Veneers are ideal for treating a number of cosmetic issues relating to the colour, shape, size, or length of your teeth. These include:
Chipped or broken teeth
Unevenly shaped teeth
Crooked teeth
Discoloured or stained teeth
What to Expect During the Veneer Procedure
Your veneer treatment can be completed in as little as just a few appointments spanning across two weeks. The procedure begins with our dentist taking the necessary imaging and impressions to begin crafting your personalised veneers. Your teeth will be prepared for the placement of veneers, including removing a small portion of the tooth's enamel to ensure the veneers sit flush with the surrounding teeth once fitted.
As your permanent veneers are being custom-made in our lab, our dentist will fit temporary veneers to your teeth to protect against sensitivity and discomfort. Once your porcelain restorations are ready, we'll bond them permanently to the front of your teeth, resulting in the gorgeous and confident smile you've always dreamed of.
Caring For Your Veneers
To maintain the long-lasting, desired results of your veneers, it is vital that you look after them correctly. This includes maintaining optimal oral hygiene routines, including daily brushing and flossing. Although veneers are stain-resistant, they can become discoloured over time due to beverages such as tea, coffee, or red wine, so it is best to enjoy these in moderation. It is recommended that you also avoid using your teeth to open packaging, as well as for biting hard items or food (such as ice).
Schedule a Consultation Today!
Do you dream of the beautiful and confident smile that our high-quality porcelain veneers can produce? Schedule a consultation with our friendly team today to find out more!
CONTACT US »

Veneers Corrimal, Woonona, Balgownie NSW | (02) 4285 2279