Keeping Your Smile Safe at Corrimal Dental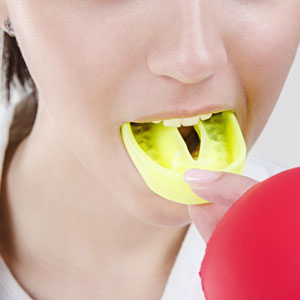 If you take part in physical activity such as sport or find yourself grinding your teeth at night time, then you need the additional protection that a dentist-fitted mouthguard or splint can offer. Not only are these vital for preventing injury, but they also help to prevent breakage and erosion of your teeth.
Custom Made Sports Mouthguards
Whether you're a full-time athlete or someone who enjoys playing a quick game of sport on the weekend, everyone can benefit from the additional safety that a sports mouth guard provides. While some believe an over-the-counter mouthguard from their local sports shop will suffice, it's important to note that these mouthguards simply do not offer the most effective form of protection. Because they aren't custom-fitted to your individual mouth, they don't fit snugly, resulting in discomfort and low levels of support to your mouth, teeth, and jaw.
An expertly-fitted sports mouthguard from your dentist, however, is crafted using impressions of your own teeth. This allows for a perfect fit, resulting in much higher levels of protection for injuries such as tooth breakage, as well as trauma to your mouth and jaw. Did you know that custom-fitted mouthguards from your dentist also help to reduce the risk of concussion? This makes them a must-have sporting accessory for all ages, including children.
Occlusal Splints and Nightguards
Some patients may suffer from what is known as Bruxism, a condition which causes them to grind or clench their teeth during sleep. Bruxism is usually a result of stress or anxiety, however it can cause severe dental problems such as tooth breakage, chipping, or erosion, as well as other health issues including headaches and facial pain.
Thankfully, correcting teeth grinding can be as simple as a visit to Corrimal Dental, as we are able to create a custom-made occlusal splint or night guard that is worn at bed time. Not only are they comfortable and pain-free to wear, but they also work to combat all of the issues mentioned above, resulting in a better night's sleep without the risk of trauma or injury to your teeth and jaw.
Safeguard your teeth today by scheduling an appointment with our friendly and experienced team!
Schedule a Consultation Today!
If you're interested in finding out more about our Perfect Arch Aligners, as well as how much the treatment will cost, please contact us today! Although individual costs vary depending on the extent of tooth movement needed, our experienced team can provide you with a detailed estimate at the time of your consultation.
CONTACT US »

Mouthguards Corrimal, Woonona, Balgownie NSW | (02) 4285 2279