Dentures at Corrimal Dental
Correcting Missing Teeth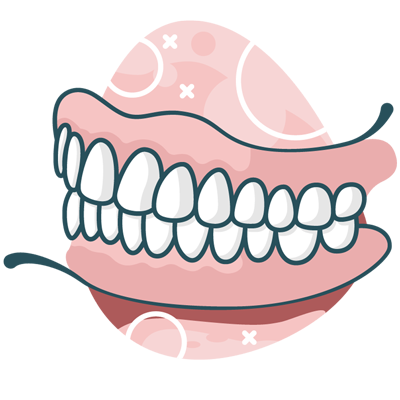 Missing teeth can dramatically affect a person's confidence and wellbeing. Thankfully, you needn't put up with missing teeth any longer, as our experienced team of oral health care professionals also offer high-quality, durable, and safe dentures to replace several or all of your teeth.
Unlike dentures of eras gone by, our modern and advanced dentures offer a more affordable restoration solution that is extremely comfortable and natural-looking. Thankfully, dentures are one of the most straightforward ways to replace your missing teeth, which is why Corrimal Dental offers both partial, full, and implant-supported denture options to suit your every need.
Full Dentures
Full arch dentures are beneficial for when there are no remaining teeth in a patient's mouth. They replace both the upper and lower teeth, resulting in a full smile that's functional and aesthetically-pleasing once again. These 'plates' are designed to stay in place using the suction which occurs between the soft tissues of your mouth (including the gum lines) and the acrylic materials of the denture.
Partial Dentures
If you still have some of your teeth but require several missing teeth to be replaced, then a partial denture may be a great solution. The removable appliance (usually a plastic base or metal frame) acts as a support to the artificial teeth which fill the gaps of those missing.
Depending on the type of denture needed, your treatment may also require teeth extractions or surgery. We can provide you with a customized dental plan that outlines each step of the process before you begin your restorative treatment.
Schedule a Consultation Today!
Do you have several or all of your teeth missing and wish to have a beautiful smile again? Contact Corrimal Dental today to discuss our range of denture options with our professional and experienced team!
CONTACT US »

Dentures Corrimal, Woonona, Balgownie NSW | (02) 4285 2279